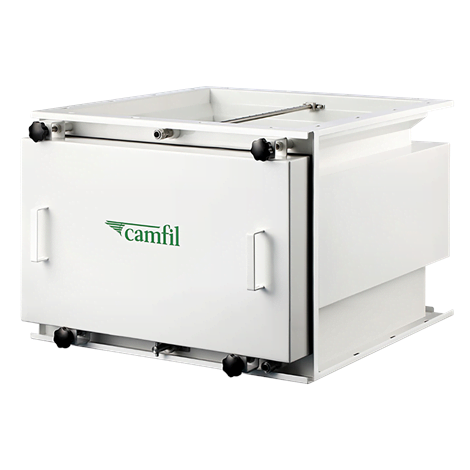 CamSafe 3 -Housing
Modularity and Flexibility
High security guarantee: class 3 IS010648-2 at +/- 6000Pa
Fully welded
Filter clamping "Twice the Security" (patented)
High operator protection by BIBO
| Item Type | Width (mm) | Height (mm) | Depth (mm) | Filter size Width (mm) | Filter size Height (mm) | Filter size Depth (mm) |
| --- | --- | --- | --- | --- | --- | --- |
| CS3-610-F-SS | 730 | 535 | 725 | 610 | 610 | 292 |
| CS3-305-F-SS | 730 | 535 | 420 | 305 | 610 | 292 |
| CS3-610-F-PPC | 730 | 535 | 725 | 610 | 610 | 292 |
| CS3-305-F-PPC | 730 | 535 | 420 | 305 | 610 | 292 |
Specifications
Application

Exhaust of contaminated air (particles, microorganisms, molecules), filter changing in secure plastic bag: Pharmaceutical, Biotechnology, Chemistry, Hospitals, Laboratories biosafety, animal facilities.

Comment

Type: Modular system BIBO safe change housing to be assembled, fully welded.
Construction: 2mm steel airtight welded.
Finish: White painted baked RAL 9010.
Filter frame: Bended and continuous welded.
For filters: 292mm depth particle and carbon filter, 45mm depth prefilter.
Filters mounting : Fast filter clamping by ClampSafe, equipped with a "twice security" both on clamping frame and door: impossible to clamp the filter if not correctly positioned and impossible to close the door if the filter is not clamped.
Connection: Rectangular flanges pre-drilled.
Pressure ports: Locations provided upstream and downstream (pressure port kit to be ordered separately).
Performance: Housing qualified +/- 5000Pa: Class 3 acc. to ISO 10648-2, L1 acc. to EN1886, Class D acc. to EN12237, Class C acc. to Eurovent 2/ 2.
Accessories: Safe change bag with integrated a-ring sealable, Gaskets and bolting kit Connecting ducks 1-6 housing in parallel for high flow rates.
Option: Stainless steel, factory mounting full or partial, individual factory tests with test report.