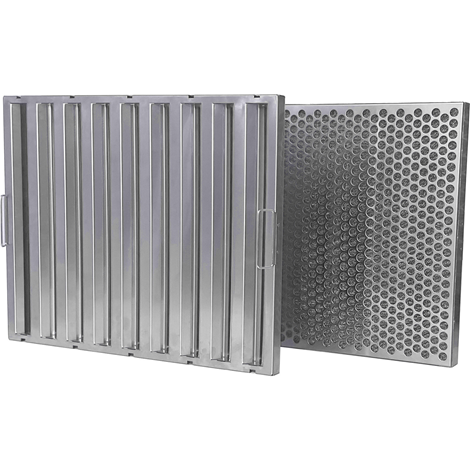 CamMet Double Filter
Fat is arrested in two stages in the filter
Air passes through the labyrinth strips and is cooled
Fat condenses out and runs down in a channel
Minimises the risk of clogging and excess pressure drop
Air then passes through a knitted stainless steel filter
Any residual fat is trapped
Filter is fitted with two strong handles
Washable
Fire rated acc. to DIN 18869-5.
Specifications
Application

Double filter with Flame Guard and knitting mesh for restaurants and the catering industry is manufactured completely in stainless material

Filter Frame

Stainless steel

Media

Stainless steel

Comment

Function: Fat condenses on the labyrinth structure and the flame guard also has a final filter of knitted stainless filter medium to deal with any remaining fat.
Frame: polished steel sheet 0.7 mm. AISI 304L.
Labyrinth: polished steel sheet 0.7 mm. AISI 304L.
Media: Woven stainless steel wire dia. 0,22 mm. AISI 304L.
Grating: Stainless steel grid 20x20 mm dia 2mm.