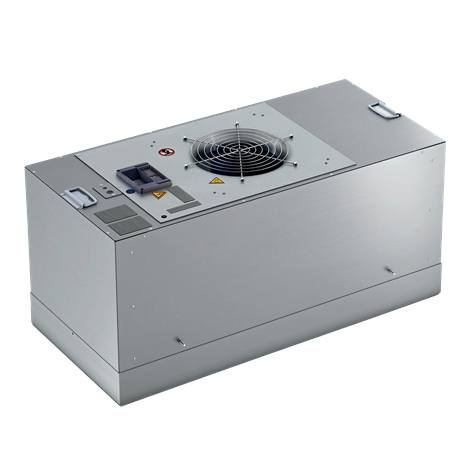 CamFFU High Performance HP-EC
Individuele controle mogelijk
Laag energieverbruik
Zeer stevige constructie
EC-ventilator met hoge reserve capaciteit t.b.v. voor- en AMC-filtratie
Specificaties
Toepassing

Eenheden kunnen aan elkaar worden geschroefd om bijv. individuele cleanroom plafonds te vormen voor machinebehuizingen, cleanroom cabines of kleine andere 'schone ruimtes' volgens ISO 14644 klasse 8,0 tot ISO 1,0.

Maximale temperatuur (°C)

0 - 40ºC

Gebruik van spanning

200...240V

Installatie mogelijkheden

Het systeem is geschikt voor afmetingen tot 4800 mm x 4800 mm of, ondersteund door voetstukken, groter.

Opmerking

Constructie: Poedergecoat staal of roestvrijstalen behuizing.
Fan: Efficiënte EC-motor met naar achteren gebogen bladen.
Luchtdebiet controle: BUS gecontroleerd systeem of handheld controle. Ook verkrijgbaar als CamFFU_IS-EC_sce voor eenvoudige 0-10V potentiometerregeling.
Filter: Megalam H14, U15 en U16, MD of MX met Camfil Sil-Gel pakking, apart te bestellen.