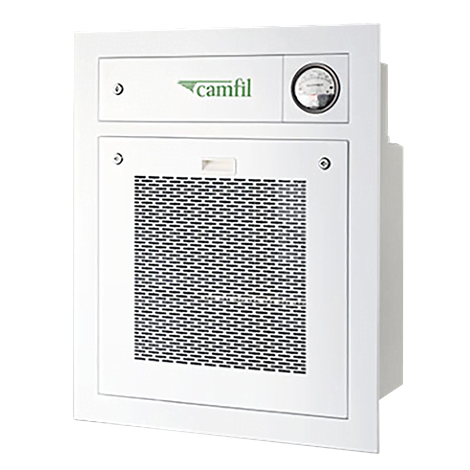 Cleanseal Extract Exhaust/Return Air Housing
Tool-less filter clamping 100% secured and immediate
Quick grid locking for immediate access to filter
Long lasting reliability and tightness : robust fully welded construction
High corrosion protection againts decontamination agents
Ensure localized control of potent compounds, eliminating the contamination of downstream ductworks
Easily operation with scanning system for filter integrity test
| Width (mm) | Height (mm) | Depth (mm) | Filter size Width (mm) | Filter size Height (mm) | Filter size Depth (mm) | Pressure drop Average (Pa) |
| --- | --- | --- | --- | --- | --- | --- |
| 800 | 998 | 526 | 610 | 610 | 66 | |
| 800 | 998 | 526 | 610 | 610 | 90 | |
| 800 | 998 | 526 | 610 | 610 | 110 | |
| 800 | 998 | 526 | 610 | 610 | 66 | |
| 800 | 998 | 526 | | | | |
| 610 | 610 | 66 | 610 | 610 | 66 | 1000/250 |
| 610 | 610 | 90 | 610 | 610 | 90 | 1500/250 |
| 610 | 610 | 110 | 610 | 610 | 110 | 1800/250 |
Specifications
Application

CleanSeal Extract is wall mount equipment used for exhaust/return air system: Pharmaceutical, Biotechnology, Chemistry, Hospitals, and animal facilities.

Comment

Type: Fully welded Wall mount housing.
Construction: Carbon steel, fully welded seams, accessories in Stainless Steel
Finish: 3 Steps - white epoxy coated RAL 9010, qualified for high corrosion protection against decontamination agents
Filter Seal: Endless PU gasket on filter.
Connection: Rectangular pre-drilled flanges.
Pressure Gauge: Pressure gauge is pre-installed on the equipment.
Performance: The whole equipment could bear ±1000Pa.The overall leakage rate should no more than 0.25% per hour under 1000Pa pressure.
Scanning system: Accourding to standard IS014644-3.